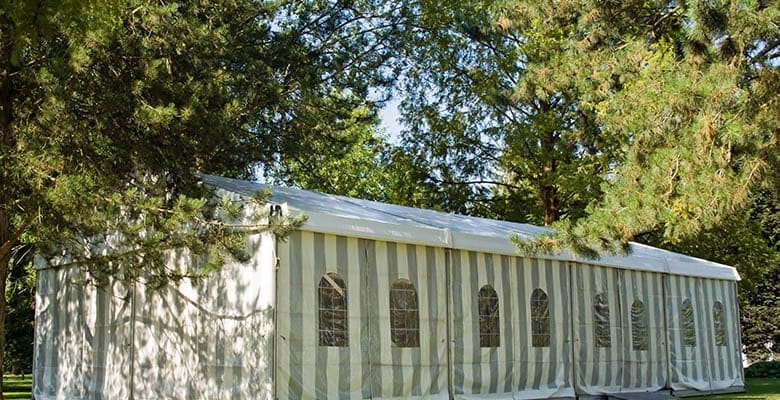 A tented wedding (or outdoor wedding) requires a lot of planning. A tent is always beautiful, and wedding tent rental makes your wedding reception different from one that anyone has ever been to. It is because you can decorate your wedding tent in any manner you want.
The perfect wedding tent
Today, tent technology has progressed a lot. The beautiful tents not only help in constructing a ballroom, but also additional structures like entrances, walkways, anterooms and many more things.  If you choose the right tent for your wedding, you can create a magical scene under the big top. Here are a few things that you should know about tents before actually opting for tent rentals:
A tent is more than a canopy
A tent with a center pole and a framework is not a canopy. Canopies have side poles, but not center pole. If you want to rent a tent for your wedding, you should be able to distinguish between tents and canopies. The main benefit of working with a tent is that tents have higher ceilings.
There are many types of tents
There are many tent types available these days, including but not limited to, open clear tents, pole tents, framed tents and pole tents. Also, you can find various colors, designs and patterns in these tents.
Tents let you add unlimited number of chambers
You can add an open-air cigar lounge, anteroom, portable toilets etc. in your tent. You can customize your wedding tent in any manner you want. Tents can be expanded and shrunk according to your needs and requirements.
Any type of tent decoration is possible
Do you want to host a fairy tale wedding reception? Do you have the desire to throw a wedding party in Great Gatsby style? Or you want to complete nuptials in the traditional manner? Well, you can host any kind of party in your tent. It is possible to decorate a wedding tent in various ways. You can use fresh flowers, colorful lights, fountains and other decoration items for decoration of your wedding tent. And the best thing is that you can even rent tent decoration accessories.