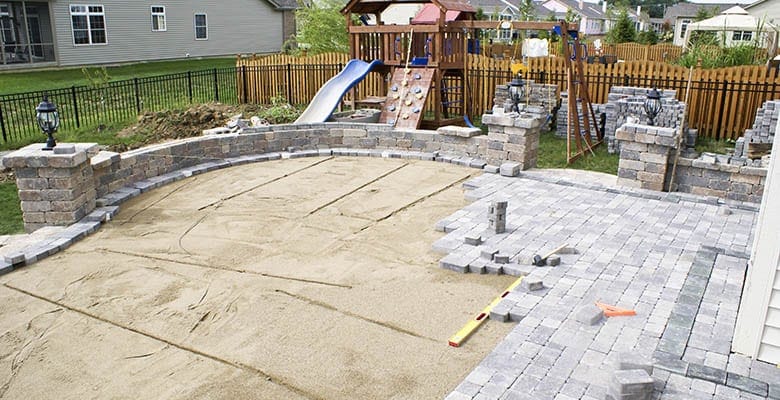 Of the six main materials used to build patios. The final appearance of your patio will depend on the kind and material you select. Here are just a few things you should think about before hiring backyard patio builders.
Only your patio's location, the size of your outside space, your personal tastes, and your budget will determine the patio material.
Before starting your patio building project, make sure everything complies with local laws. Additionally, make sure that all conditions have been met.
The top patio products currently on the market
On this page, we've put together a thorough list of the best patio materials, along with information on how to utilize them.
The most flexible and adjustable patio flooring material is probably concrete. Made of sand, water, gravel, and cement, it is one of the most common products. Additionally, it comes in a variety of shapes and finishes.
Concrete may be molded to fit any surface shape if your contractor uses sturdy material forms. The main advantage of concrete is how easily it can be painted or embellished.
Bricks
In brick kilns, clay and a variety of other materials are burned to create bricks. Bricks have traditionally been made in this manner for countless years. As a result, it has a long lifespan, is tried and true, and is like concrete. Additionally, it has a very traditional and tidy appearance that blends well with practically all architectural designs.
In this regard, it is far more adaptable than concrete. The herringbone and running bond brick designs are common ones for outdoor patios.
Flagstone
Another popular material with a distinctively erratic pattern is flagstone. 1.3-inch-thick stone slabs are a common marketing format for this material. The rough surface of the floor provides a firm grip even when wet. Sandstone, bluestone, and limestone are just a few of the different shades and textures of flagstone.
Flagstones need to be a minimum of 1.5 inches thick when used on patios. Additionally, the slabs must be immediately positioned on the soil, bed, or soil. Some builders also utilize flagstone laid in thin layers. To reduce the likelihood of cracking, thinner layers should be added to the top of the wet mortar.
Currently, homes with modern architecture employ tiles as an alternative. We advise using unglazed tile for patios. You may use the glazed ones to draw attention to and define edges. This is because glazed tiles can be dangerous when they're wet since they make the ground extremely slippery. As a result, glazed tiles might present a tripping risk when it rains.
The two most popular varieties of unglazed outdoor tiles are quarry and porcelain. However, stains on tiles are a significant issue. These stains may be avoided with the use of coatings and sealants. They can fend against moisture as well, which helps them keep their color for a longer period.
Conclusion
Although the materials mentioned above are frequently used in patios, there are still more options. You might want to perform some research before choosing a material in this regard.
Keep in mind that every material has a unique set of benefits and drawbacks. By learning more, you will be better equipped to judge your patio construction project and get the most out of it. Other than, you should remember to keep some breathing room in your budget to cover any unexpected costs. Such costs can become an unpleasant surprise if you do not prepare beforehand.
Don't forget to discuss all your possibilities with your neighborhood patio contractors Long Island. You might benefit greatly from professional guidance catered to your specific needs if you want to design the best patio.