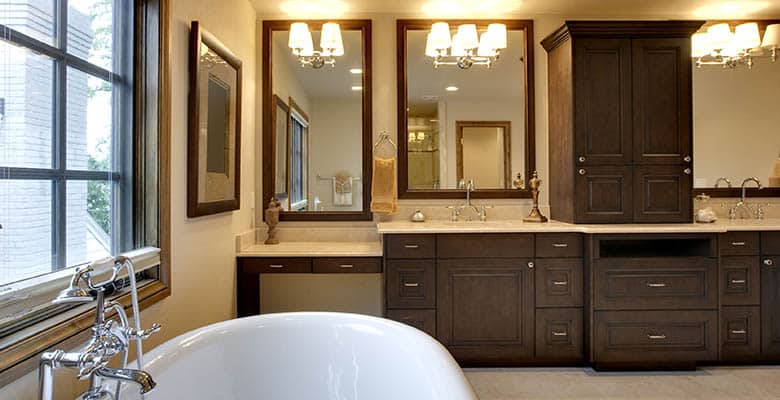 Bathroom remodeling is tricky and time-consuming. You need a proper plan and budget in place to go through bathroom renovations. For this, you should know these bathroom remodeling secrets.
Plan And Ask Obvious Questions To Yourself
You may want to start the bathroom immediately to get the bathroom design you want, but before doing anything, you should plan. Ask yourself the questions like how much can I spend on the remodel? What are the things I need in this remodel? How much storage is needed? Make sure you know the correct answer to these questions.
Walk-In Showers Are The Best
Many people like bathtubs and if you have children in the house or you want to sell the house soon, you should consider a bathtub. However, walk-in showers are more trending today than bathtubs.
If a bathtub is a must for you, but you have a small bathroom, consider a bathtub-shower combo. This advice is for people who want a bathtub at any cost. Others should go with a walk-in shower and keep their bathroom space less cluttered.
Bathroom Walls And Flooring
When selecting the materials for bathroom walls and flooring, you can save money by selecting the right materials. Tiles are the most popular material for bathroom walls and flooring for the right reasons. If you don't want to spend time selecting materials, you can go with tiles.
If you want more options for bathroom walls, vinyl wallpapers, waterproof paint, cork, laminate wall panels, beadboard, and tileboard. Some of these materials require a redo after a few years while some don't appear as pretty. So, choose carefully.
For more flooring materials outside of tiles, you can select concrete, waterproof stucco, linoleum, natural stones, sheet vinyl, and laminate.
Don't Ignore The Details
While you want to stay on budget and cut costs, you may forget or ignore details that can add to the appearance and functionality of your bathroom. For instance, updating the glass shower enclosure can work wonders for your bathroom. The same goes for cabinets and bathroom accessories.
Keep Storage In Mind
A bathroom, be it small or large, needs a lot of storage to hide all the clutters and items. So, you must keep storage in mind to come up with ideas to add more storage to your bathroom.
There is less storage space in a shower so you can consider a built-in shower niche to keep the products you would use during the shower. You won't need to reach for cabinets every time you need something.
Moreover, a vanity can work as a storage unit that will be able to hide a lot of mess. If you're low on budget, you can select a small store-bought vanity, but if you have the budget, go for a custom vanity.
For storage on walls, you can get floating shelves and a mirror cabinet. Moreover, don't forget towel racks, hooks, and other common items.
Add Features That You Like And Add Value As Well
You can go for non-slip flooring to make it impossible for anyone to ever fall in the bathroom. You can get a slip-resistance rating of 0.42 or higher.
Who doesn't like heated floors after a shower? If your budget allows for it, you should consider this feature. Moreover, heated floors dry much more quickly than regular floors reducing slips.
Use Big Tiles
If you're locked in on using tiles for walls or flooring or both, consider big tiles because look great on all bathrooms regardless of the pattern and design. This can make the space look bigger.
To ensure the impact of bigger tiles, make sure to use grout of the same color as the tiles and keep the distance between the tiles as less as possible. Usually, 1/16 inch is considered a narrow space between tiles, for which you will need tile spacers of the same size as well.
Match The Hardware
Don't make the mistake of installing a sink faucet made of copper and a bathtub that has stainless steel facts. Make sure the hardware matches and induce uniformity in the bathroom design.
Conclusion
A bathroom remodel allows you to get creative and add features that you need. For planning and pulling off the project successfully, get in touch with bathroom remodelers.