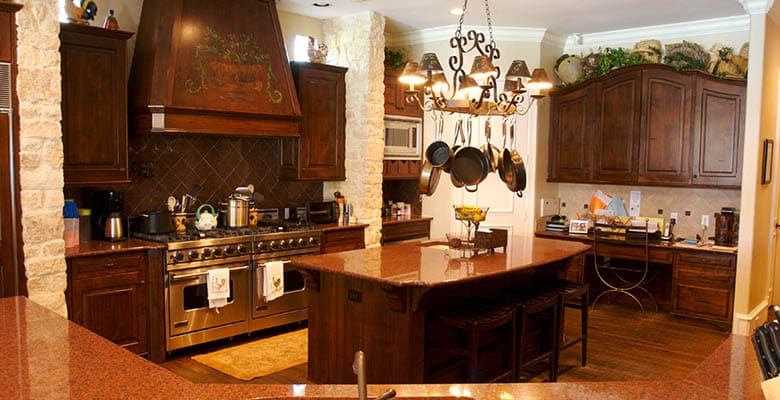 Quartz countertops are quite popular for the uniqueness of their appeal. Apart from that they are versatile, long lasting and cost-effective. But if you are looking for alternative options for quartz worktops, here are a couple of options for you to decide from.
Solid Surface Countertops
Solid surface countertops are known for their inexpensive prices. They are affordable to all and look just as elegant. But they come with their own downsides. One of the major setback being that that they can't withstand a lot of heat. So if you live a warm climatic area, solid surface countertop may not be the best option for you to choose from. Even if you live in a region where its mostly chilly, you need to be extra careful as to not put anything too hot on the countertop,, for instance, a hot kettle or cookie tray right out from the oven.
Their designs are one of a kind but the demand extreme care as they contain acrylic component that make them porous and thus very susceptible to staining.
Marble Countertops
Marble countertop sound super fancy and the first thing that comes to mind when one hears about marble countertop is their expense. The truth is, certain marble countertops come in cheap too…at least cheaper than granite countertops.
As much of an excellent option they may be, they are also susceptible to stains and dulling over a period of time. They need periodic cleaning and care as to not leave acidic foods on the countertop. Prolonged exposure to acid can result in etching and remove its seal. They are too very heat resistant but only up to a certain level.
Granite Countertops
Granite kitchen countertops are an excellent option for when you are looking out for a durable, low maintenance countertop. They are also incredibly tough and are not easily stained. Granite countertops can withstand a lot, however it is best if you use a cutting board for chopping vegetables or meat to keep your knife from going blunt.
They too need periodic cleaning to maintain its shine that will enhance its elegance and allure. But not as much as you would expect them to need. The maintenance is extremely easy, and once sealed their non-porous nature will not allow the countertops to stain easily. Apart from that, they are also a very hygienic option as they are just as much resistant to bacteria.
Soapstone Countertops
Soapstone countertop is made up of a natural stone that is called soapstone. It is a little softer than granite and more resistant to stains and etching attributing to its non-porous nature. But be careful as to keep sharp objects away. They may be non-porous but slightest negligence can lead to dents and chips on your countertop, which will be quite heartbreaking for they certainly don't come in cheap.
Getting a crack on soapstone is not an easy task and their durability is one that is sought in every countertop. They are known for their heat resistant properties. You can put a burning hot kettle on top of the countertop and you'll be surprised to see how resistant it is to heat damage. They are recyclable and environmental friendly as they are 100% free from chemicals.
Butcher Block Countertops
You can opt for butcher block countertop, if you want to opt for one that is a little out of the ordinary. They are made up of wood. The best thing about them is that you can decide the type of wood you want your countertop to be, namely being, walnut, maple, bamboo and more. They are incredibly attractive unless stained and damaged. Thus, owners of butcher block countertop need to be extra careful with its maintenance. They are prone to dame at high heat and their porous nature will cause them to stain easily.
Stainless Steel Countertops
Stainless steel countertops are very common in industrial areas, where they don't want their countertops to corrode just as easily. They may not look very attractive but are incredibly practice. You wouldn't have to worry about your knives going blunt or frequent maintenance. As long as you clean your countertop regularly, due to hygienic purposes, they don't require any more maintenance.
Other than that, you can discuss with quartz countertop contractors Raleigh NC on which alternative is the best.